By Bryan Gallion, Brenda Wintrode, Julia Lerner, Maya Pottiger, Nick McCool, Lillian Eden, Katy Seiter, Megan Calfas, Joe Dworetzky, Vanessa Ochavillo, Everitt Rosen and Jonmaesha Beltran
Published July 13, 2020
WASHINGTON — Brandon Lindsey woke before the city public works team arrived with heavy equipment to clear the L Street NE underpass he calls home. He broke down his tent, rolled it into a ball and piled it on top of his tarps and bags.
One by one, his neighbors crawled out of their tents on the overcast March morning and began packing, too. If they didn't move, the cleaning crew would remove their things for them.
This work is a collaboration among the University of Maryland's Howard Center for Investigative Journalism and Capital News Service, the University of Oregon, Stanford University, Arizona State University, the University of Arkansas, Boston University and the University of Florida.
And then the trucks rolled in. A front loader's mechanical jaws snapped the poles of an abandoned orange tent and lifted it off the sidewalk. The tent's underbelly bulged with the weight of waterlogged bedding and burst like a water balloon, spilling its contents into the street. The front loader backed over the trail of sneakers, bedding and clothes that had fallen to the ground.
Nearly two dozen people inhabit the underpass being cleaned out that morning in the NoMa neighborhood, eight blocks from the U.S. Capitol. The encampment, just a group of tents, has become a makeshift community.
Washington says it shuts down encampments when they pose public health or safety concerns. Outreach workers are supposed to offer alternative living arrangements as they usher campers away, but many homeless people want nothing to do with shelters, which they viewed as unsafe even before the arrival of the coronavirus. The city's waiting list for housing runs to 90,000 households.
So, people typically return with their tents once the heavy equipment leaves — until they're told to move again. Orders for NoMa's campers to pack up and go nearly tripled from 2016 to 2019, coming as often as three times a month in the past year.
"It feels like we're nomads," Lindsey said, "because we're constantly, constantly moving. … How can I get a job and do all this stuff when I don't have a stable place to stay?"
Communities nationwide — including just blocks from the White House — are struggling with the growing number of tent cities.
People with few desirable alternatives are pitching tents under bridges in Seattle and Miami, on the side of California freeways, in New York parks and along streams in Oregon, Arkansas and Massachusetts.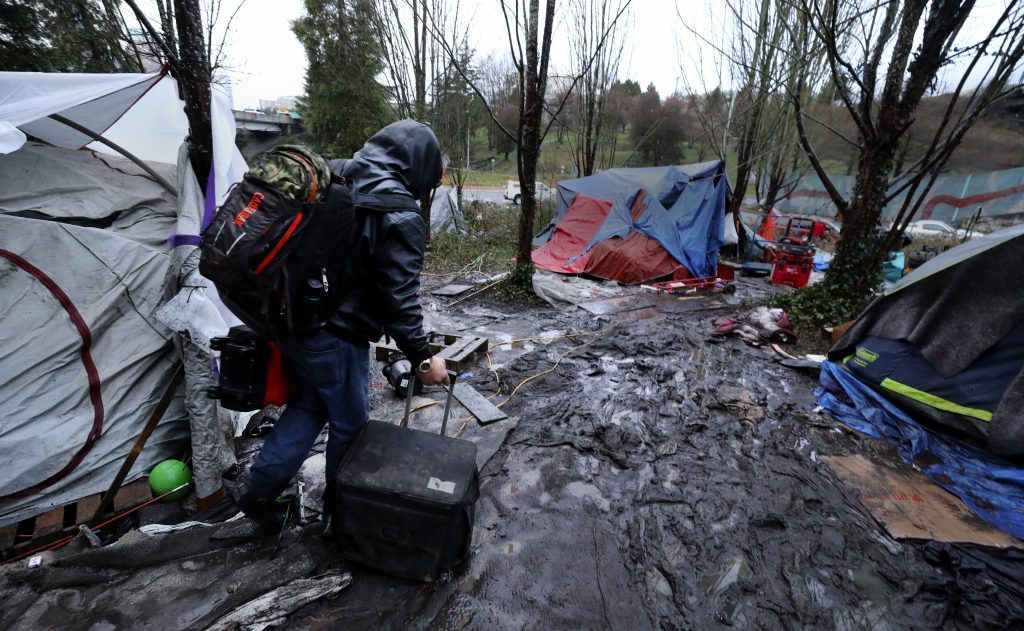 From 2007 to 2016, the number of encampments in the United States grew from 19 to 274, according to a National Law Center on Homelessness and Poverty media analysis. Two-thirds of the growth came after the Great Recession.
That count could explode as the coronavirus pandemic pushes unemployment to record levels. Billions of dollars in federal aid have been poured into short-term fixes this spring, such as moving the most vulnerable homeless people into hotels and motels. But no one knows how long that aid will last.
The Howard Center for Investigative Journalism at the University of Maryland partnered with six universities from Oregon to Florida to examine how communities nationwide are responding to the rising number of homeless encampments — and a deepening intolerance of them.
Reporters examined more than a dozen cities and found a few communities experimenting with approaches to move people out of tents and into housing. But most dealt with encampments before the pandemic by sending in garbage trucks and police with move-along orders.
Experts say subsidized housing is the most effective solution to permanently move people off the streets. But the affordable housing market continues to dwindle as cities gentrify, and funding for voucher programs intended to make up the difference fails to meet demand.
Business groups and residents increasingly call for homeless people and their belongings to be removed from their streets. The problem, however, remains: Housing for everyone does not exist.
"We live right next to a couple of millionaires,'' said Lindsey, who's in his mid-30s. "We're living out here in tents, and they still want to kick us out from here.
"Where are we gonna go?"
Increasing intolerance
Like "Hoovervilles," shack towns that developed when millions of Americans lost their jobs and homes during the Great Depression, encampments are a product of the modern affordable housing crisis.
"How communities need to think about the presence of encampments is that it's an indication that the current strategies either aren't working or aren't at the scale of need that's necessary to provide those housing solutions," said Matthew Doherty, the former director of the U.S. Interagency Council on Homelessness.
As the number of encampments has grown, so have objections to them. Calls made to non-emergency 311 lines about encampments grew 20% in New York City and nearly quadrupled in Los Angeles from 2016 to 2019, the Howard Consortium found.
Lawsuits spurred by encampments also spiked, according to court records, both against cities and against companies and private individuals who allow homeless people to live on their property. The defendants cover the map, from a California school district to the City of Cincinnati to Palm Beach County in Florida.
Clashes between the housed and unhoused are playing out in cities large and small.
Mounting citizen complaints about trash prompted police to remove two encampments from University of Arkansas-owned land in the past two years.
William, a 30-year-old who didn't provide his last name, camped after being evicted from his apartment for failing to pay the rent. Disbanding an encampment in a smaller community like Fayetteville, Arkansas, can sever ties between homeless residents and the services they need.
"Anyone who is homeless, it seems like they're trying to push us further and further out of town," William said. "It's farther and farther away from the facilities that can help us."
Last summer, the Boston Police Department conducted "Operation Clean Sweep" on the city's notorious Methadone Mile, a stretch south of downtown where addicts and dealers congregate and homeless people sleep.
"Garbage trucks are invaluable to us, strong deterrent for them to set up camps."
Homeless people and others had their personal belongings — including wheelchairs — thrown away with no advance notice, according to an Aug. 12 letter from the American Civil Liberties Union of Massachusetts to Boston Mayor Marty Walsh.
In an email report filed after the clearance, Police Capt. John Danilecki wrote that "garbage trucks are invaluable to us, strong deterrent for them to set up camps."
Forty people were arrested during the cleanout for outstanding warrants or drug charges, according to a Boston Police email. Of the 40 people, 25 gave officers the address of a shelter or care facility.
"The cost to cities and taxpayers of taking punitive approaches to homelessness can be staggering," a 2017 report by the National Law Center on Homelessness and Poverty found. Honolulu was spending $15,000 a week clearing encampments, only to have people return days later. Washington spent more than $172,000 in three months.
The city of Eugene, Oregon, where the homeless population has grown 50% since 2015, said its cleanup costs for homeless camps is nearly $800,000 a year.
Clashes with development
Tensions over encampments escalate when they form in gentrifying areas or retail districts, the Howard Consortium found.
Once home to crumbling warehouses, the blocks around NoMa's encampments in Washington are now occupied by upscale restaurants, luxury apartments and more than a million square feet of new office space. The neighborhood's median income doubled since 2011, from $33,000 to $67,000, as did its population, according to U.S. Census data.
D.C. Gentrification and Homeless Encampments
BY THERESA DIFFENDAL
Between 2015 and 2019 in Washington, D.C., the majority of homeless encampment clearances by the city occurred in gentrifying neighborhoods, according to an analysis by the Howard Consortium. The biggest numbers were in the NoMa neighborhood north of the U.S. Capitol. This map shows homeless encampment clearances during that period, with larger circles representing more clearances at a given site. They are overlaid on a map of gentrification by census tract, as measured by the loss or gain of low-income residents. Darker red means a larger loss of low-income residents, and a higher level of gentrification in that tract. Darker blue means a larger gain of low-income residents, indicating a tract that is not gentrifying.
Its business improvement district promotes development and beautification, and spent portions of a $50 million revitalization grant from the city on a $5 million dog park and more than million-dollar light sculptures that dangle from the underpasses where people camp.
The business district's president, Robin-Eve Jasper, published a letter last summer on the organization's website that said residents encountered "used and bloody hypodermic needles … rotting food, trash, broken glass, public nudity, prostitution, sales of illegal drugs and human urine and feces" when trying to pass through the tent-lined tunnels.
Five months after Jasper's letter, the District cleared out one of NoMa's three underpass encampments to make a "pedestrian passageway," according to signs announcing the closure. Campers were left to find other places to sleep in the middle of winter.
In a rapidly gentrifying Miami neighborhood, city officials asked the state to install "no trespass" signs so police could clear a longtime encampment from under the interstate, records show. They said they had been receiving complaints from businesses, residents and state officials.
Police gave campers 30 minutes to leave or face arrest, as city crews began loading tents, blankets, clothing and food into a waiting garbage truck, according to affidavits collected by the ACLU of Florida Greater Miami Chapter and interviews by Howard Consortium reporters.
One man said they took one of his two walkers and told him he "could only have one." Another wrote in his affidavit: "WE CAN DO BETTER."
On the West Coast, San Francisco's population, number of jobs and square footage of commercial space swelled in the past decade, according to "Complaint-Oriented Policing," an article published last year by the American Sociological Review. So has the presence of tents on city streets — and citizen complaints about them.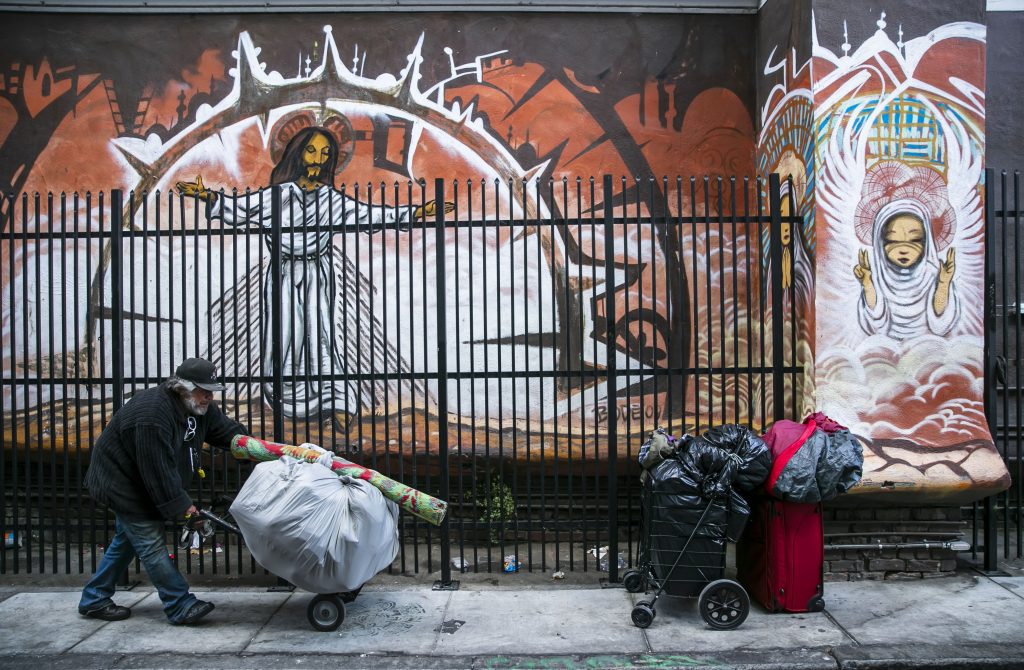 Calls about encampments to San Francisco's nonemergency 311 service line jumped nearly tenfold between 2015 and 2019, the Howard Consortium found.
Two years ago, the city only sent teams to clear encampments in neighborhoods with high concentrations of homeless people. But the city's Healthy Streets Operations Center adopted a "complaint-driven" response system last year that led them to address nearly 70,000 calls about encampments coming from all neighborhoods, according to an analysis of 311 data.
Jeff Kositsky, who recently took over as Healthy Streets Operations Center manager, said that blanket approach led to rushed interactions and may have contributed to the decline in the number of homeless people who accepted city help.
"I think we've lost some trust amongst people on the streets," he said.
Ninety-five percent of people who were moved into shelters last year immediately returned to the streets, up from 58% in 2018, according to Healthy Streets Operations Center data.
San Francisco is reverting to its more targeted encampment strategy to better organize city resources and replicate past successes. But homeless people and advocates for the homeless argue the approach still focuses on enforcement over outreach.
"It doesn't matter who comes. They're kicking me out," said Javier Tayer, a San Franciscan who's been homeless for two years. "They give me a couple hours to leave or give me a ticket, then take my things."
Coronavirus implications
Then came COVID-19.
The Centers for Disease Control and Prevention advised in March that people shouldn't be moved out of encampments amid the pandemic unless they could live in individual housing units to limit the spread of the coronavirus. But some cities continued forcing campers to pack up and go, trashing their belongings and endangering their personal safety.
Dr. Lena Carleton, an advocate for health care for the homeless, provided COVID-19 testing in the Overtown section of Miami, where campers were forced to move in May. She said it's especially important to "prioritize taking care of the most vulnerable members of our community" during the pandemic.
A California District Court judge ruled May 15 that people living in encampments along Los Angeles freeways had to be relocated. Not only could campers be exposed to pollutants or be in danger of getting hit by a car, the judge found, sleeping outside increased their risk from COVID-19.
People living in encampments were already at heightened risk. While their demographics aren't tracked nationally, an upcoming federal study of selected cities found that campers tend to be older and have higher rates of disabling conditions, such as substance abuse disorders or milder mental illnesses. (Those with severe mental illness tend to live alone on the streets, the study found.)
Moreover, more than a quarter of unsheltered homeless people across the country are African American, a population that's disproportionately affected by COVID-19. In NoMa, 78% of campers are Black, according to a survey by Ami Angell, the CEO of homelessness nonprofit The h3 Project, on behalf of the NoMa BID.
California Gov. Gavin Newsom launched "Project Roomkey" in early April, an initiative that moved more than 15,000 homeless people into hotels and motels for three months. The state was the first in the nation to secure federal funding to relocate people who tested positive for COVID-19, were 65 or older or who had conditions that made them particularly vulnerable to the virus.
Mike Melcher, 63, was one of them. He moved out of his truck parked in Covina, outside of Los Angeles, and into a Project Roomkey unit on May 14. The doctor who's been caring for Melcher since his stroke recommended him for the program. He's been able to take a hot shower every morning and sleep in a bed with clean sheets every night, but he knows his stay is temporary.
"What are you guys going to do after the 90 days?" Melcher said he asked on-site workers. "Are you going to feed us to the wolves?"
Seeking alternatives
Opting for an approach that may provide long-term help, Gainesville, Florida, has been moving residents of its county's largest encampment into permanent housing.
Jon DeCarmine, executive director of the one-stop homeless services center and shelter called GRACE Marketplace, persuaded city leaders to stop arresting people for living outside and embrace his plan to shut down the encampment by moving the residents to a temporary campground on the GRACE campus and then into homes.
"As homeless populations grow, municipalities tend to revert to criminalizing homelessness rather than trying to deal with it as a housing issue," DeCarmine said.
The phased closure of the encampment, dubbed Dignity Village, was supposed to be finished this spring but was delayed by the arrival of the coronavirus.
Of the 222 Dignity Village campers on the roster when the encampment dismantling began in October, DeCarmine said 78 have been permanently housed, 65 are still living within the GRACE compound and 20 people have moved elsewhere in the area.
He assumes the remaining 59 left town. They haven't received any homeless services in the five-county area around Gainesville in more than 90 days, according to GRACE data.
At GRACE, a former prison that was converted to a shelter in 2014, people have a place to sleep, shower, do laundry, eat and access medical services before moving on to a place of their own.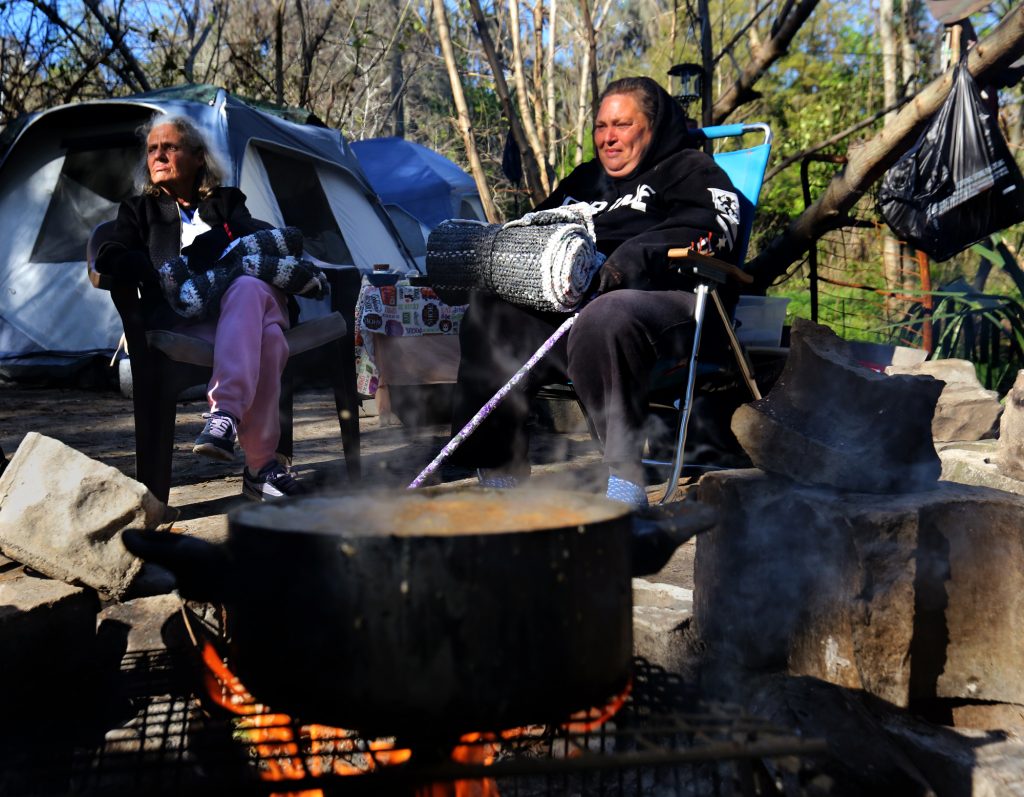 But many campers planned to go elsewhere when the Dignity Village closure was announced, pointing out that moving into GRACE's shelter decreased their space and their freedom — for example, they wouldn't be allowed to keep their pets.
Living in encampments can provide more autonomy and privacy than shelters, according to a U.S. Department of Housing and Urban Development study. Campers find safety in numbers and want the freedom to come and go as they please.
Shelters often set curfews and require people to leave early in the morning, taking their belongings with them. Most don't allow people to stay with unmarried partners, and people who are visibly drunk or high are frequently banned.
Yet even if everyone wanted a shelter bed, shelters only had space for 68.6% of the country's homeless population before the pandemic dramatically reduced their capacity, HUD data showed.
Some homeless people just aren't interested.
Joyce, a homeless Washington woman who shared only her first name, tried staying in a shelter the first night she was homeless eight years ago. But she felt unsafe after a woman standing near her in line cussed her out, thinking Joyce stepped on her foot.
"I said, 'Well Lord, if they're doing this at 7, what the hell going to be going on at 11?' " Joyce recalled. "So, I got my ID back and left."
Joyce has slept in a lawn chair in the L Street underpass for the past eight years. She moves her green seat closer to the guardrail before bedtime, away from the BID's light installation, and hopes the essential oils she sprinkles deter the rats.
Despite visiting the D.C. Housing Authority and "all the places," Joyce's inherent mistrust of the government keeps her from taking any next steps toward housing.
"I don't want to be hooked up to the government programs,'' Joyce said, "because I see they're nothing but enslavement, entrapment and imprisonment."
Housing hurdles
Philadelphia lowered barriers to entry at its shelters two years ago when the city moved people from four prominent encampments that had grown up near an open-air drug market in the Kensington neighborhood.
To simultaneously combat the city's opioid addiction crisis and the growth of encampments in Kensington, the city allowed people who moved out of the encampments and into shelters to come and go, store their possessions and stay with their partners.
They also weren't required to be sober. And hurdles to accessing treatment for opioid use were lowered.
Kensington's encampments were shut down in phases. Two were closed during a pilot program that began in April 2018, and two dissolved as part of the larger Philadelphia Resilience Project — a multimillion dollar, 35-agency effort to address opioids and homelessness — starting that October.
A University of Pennsylvania assessment of the pilot program said its "lasting and most widely adopted innovations" were the changes in access to drug treatment and relaxing shelter rules to get people off the street who would have otherwise continued camping.
Nearly half of the 256 campers with whom outreach workers engaged during the pilot accepted drug treatment or housing, mostly in temporary shelters. But "housing options were not available in sufficient quantity" to indefinitely get everyone off the streets, said Penn Professor Dennis Culhane, who helped assess the pilot.
Nationally, three out of four eligible households don't receive federal housing assistance because of a lack of funding, a Center on Budget and Policy Priorities analysis found. So, communities are forced to help one subset of their homeless populations at a time.
Washington, for example, has invested millions of dollars in short-term family housing and reported a more than 25% decrease in veteran homelessness between 2014 and 2018. But these efforts have left fewer resources for single adults, the demographic most likely to live in an encampment.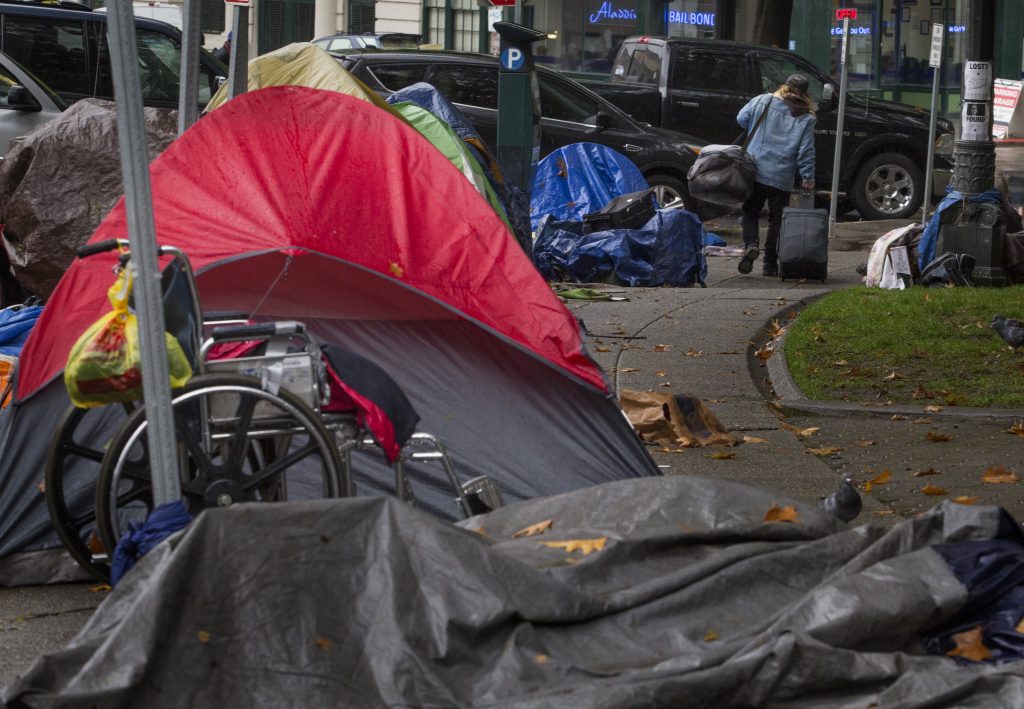 Experts say more affordable housing would alleviate these difficult tradeoffs. The U.S. has the largest fraction in the world of people paying more than half their income for rent, says a new book, "In the Midst of Plenty,'' cowritten by housing and homelessness expert Jill Khadduri.
"Who should come first'' for aid, Khadduri asked in an interview. "Should it be families, veterans, people in encampments, people with severe mental illness, people with chronic patterns of homelessness? Those choices would not be nearly as difficult if there was a much more robust supply of rent subsidies."
During the early 1990s in New York City, Sam Tsemberis founded Pathways to Housing, a nonprofit built on a "housing first" philosophy. People are provided housing, and then the staff addresses the problems that pushed them into homelessness, including issues with medical and mental health, employment and education.
Today, Tsemberis' organization is a national nonprofit that provides housing to homeless people without preconditions, such as agreeing to addiction treatment.
"We actually believe their view of their own pain and suffering," Tsemberis said, "which was, 'Give me housing and everything else will follow.'"
Over the years, the housing first model became an international intervention. It's being used to reduce homelessness for veterans in the U.S. and is part of national policies in Canada and New Zealand. In Canada, there are over 60 housing first programs, according to Tsemberis. And in Finland, homelessness has fallen by nearly 40% in the past decade using a housing first approach.
Yet in the U.S., he said the challenges of ending homelessness haven't changed in 20 years.
"Every day there are more and more people homeless who can't pay the rent, because the rents are too high and the wages are too low," Tsemberis said. "We have a machine that's creating homelessness. That's the culture that we live in."
"If we actually know how to end homelessness," Tsemberis asked, "why haven't we done it?"
---
Brenda Wintrode, Bryan Gallion, Julia Lerner and Elisa Posner reported from the University of Maryland. Everitt Rosen and Katie Hyson reported from the University of Florida. Donny Morrison and Rachel McKinnon reported from the University of Oregon. Nick McCool and Lillian Eden reported from Boston University. Katy Seiter reported from the University of Arkansas. Samuel Baucom, Seimi Chu, McArdle Hankin, Rachel Oh, Joseph Dworetzky, Irena Fischer Hwang, Vanessa Ochavillo, and Matthew Vollrath reported from Stanford University. And Jonmaesha Beltran and J.J. Santos reported from Arizona State University. Lead photo: A tent encampment erected by homeless people near the CSX Railroad Bridge in Boston on April 25, 2020. (Seven Wu)