By Sam Baucom
Published July 13, 2020
---
Valerie McEntee is having an entirely different quarantine experience from many people.
McEntee often walks the streets of San Francisco, block after block, from 8 p.m. to 4 a.m. On any given night, in her role as a minister with the nonprofit San Francisco Night Ministry, she may speak with a military veteran battling post-traumatic stress disorder, a drunken college student who needs directions, a bouncer, a drag queen, or a homeless person who doesn't know where else to turn.
This work is a collaboration among the University of Maryland's Howard Center for Investigative Journalism and Capital News Service, the University of Oregon, Stanford University, Arizona State University, the University of Arkansas, Boston University and the University of Florida.
"We just meet people where they are," McEntee said.
The ways that the homeless have responded to the physical distance McEntee now puts between herself and others are as varied as the topics they choose to speak to her about. While many do not mind her standing a small distance away, especially given current circumstances during the COVID-19 pandemic, some homeless individuals are offended when McEntee refuses to get close to them.
"The people who live outside are frequently treated as if they're sort of untouchable, like nobody wants to be close to them," McEntee said.
The night ministry, one of many nonprofit organizations that work with the homeless in San Francisco, provides spiritual support, operates a crisis hotline and recently has been handing out sanitation items. Now, it's adding a new task: helping the homeless navigate the COVID-19 pandemic.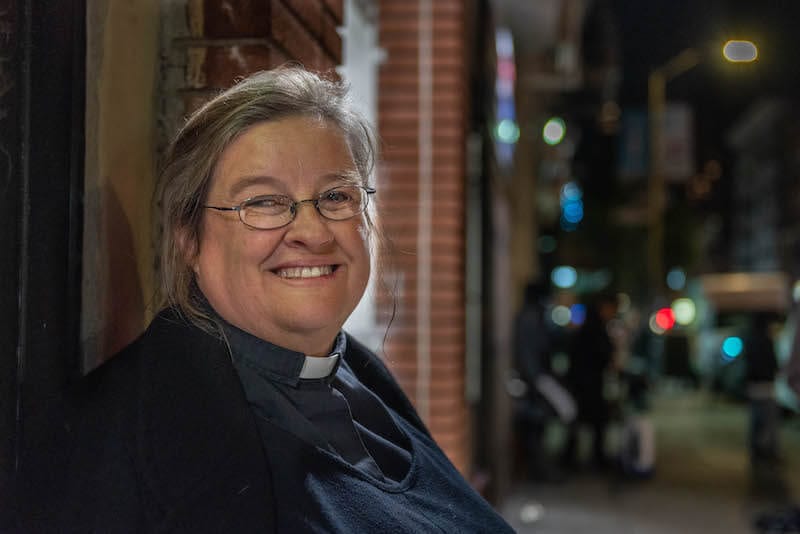 "We talk to everybody who is outside at night," McEntee said. In San Francisco, that is a wide range of people, including those out partying, those living in single occupancy rooms, or those who are homeless and panhandling.
McEntee came to the night ministry in 2007 as a crisis-line counselor. In 2008, she completed a fellowship with the night ministry and became an ordained minister. After being an ordained night minister for 12 years, McEntee has developed "regulars" whom she checks on each evening.
"Just like with anyone, it can take time for some to feel comfortable enough to share their heavy stories," McEntee said. Others may share a deep story or challenge within five minutes.
"It is such a privilege that people will tell me those stories," she said. "When I was fairly new to night ministry during my first year, it seemed like every other conversation was, 'I've done murder and I've done my time.' I knew they were waiting to see if I would freak out before telling me what was really going on."
In the early 1960s, seven members of the interdenominational Council of Churches launched an experimental ministry to reach out to "street people" at night, when the only social services available were police, fire departments and ambulances. Eventually, that experiment morphed into what the night ministry is today.
"Something that I began to hear from homeless individuals is 'How do I shelter in place when I don't have a place?'"
The night ministry is considered an essential service under state guidelines. It has continued to provide mental and physical health care to marginalized communities by speaking with the homeless and giving them hand sanitizer, tents, masks and food.
Once COVID-19 hit and everyone was instructed to stay at home, the concerns McEntee heard from San Francisco's homeless community began to change.
"Something that I began to hear from homeless individuals is, 'How do I shelter in place when I don't have a place?'" McEntee said.
In addition to the night walks, the night ministry operates a crisis hotline from 8 p.m. to 4 a.m. Trained phone volunteers speak with anyone seeking spiritual and emotional support in San Francisco and beyond.
With most of the San Francisco Night Ministry's in-person services and activities canceled, some homeless people who participated in these events have turned to calling the ministry's phone volunteers for companionship, McEntee said.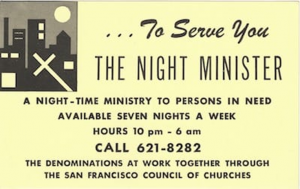 Because call volumes have increased substantially, the San Francisco Night Ministry has trained 30 new volunteers since the virus started and is considering imposing a time limit on the calls, something it's never done.
People from coast to coast call the ministry, McEntee said. "Some people call just because they are lonely and have no one else to speak with."
"I have no one," "No one cares," "I only talk to hotlines," are all sentiments the crisis hotline volunteers have now grown accustomed to hearing, McEntee said.
In the time before the COVID-19 pandemic, the San Francisco Night Ministry held two open-air worship services each week, one at the 16th and Mission BART station, and the other at United Nations Plaza.
Both services have been halted indefinitely.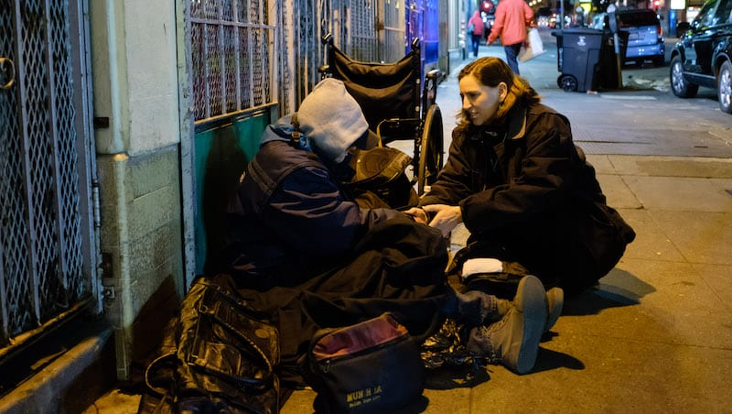 "You talk about things you never imagined in seminary," McEntee said. "I never imagined I would be on a crusade to find hand sanitizer for people. We've handed out over 800 little bottles of hand sanitizer to people living outside so far."
In addition to passing out hand sanitizer, the San Francisco Night Ministry has received 100 tents from the Coalition on Homelessness, a San Francisco-based nonprofit, which they have passed out to individuals. And a manufacturer of cocktail napkins has shifted its operations to making face masks and donated 1,200 of them to the night ministry to distribute.
In the middle of March, McEntee was on Polk Street checking up on a few "regulars" when she saw an older man inebriated on the side of the road, clearly having a difficult night. "This was before masks were worn. I think this was the second week of March," McEntee recalled.
"He was telling me about his combat experiences and seeing his buddies blown up. This is so weird, and it felt cold to me to be so far back and listening to this story, but I listened to it," McEntee said, noting she stood six feet away from the veteran.
"Normally I'd be sitting right next to somebody, maybe a foot away or something and put a hand on their shoulder."
Baucom is from the Graduate Program in Journalism at Stanford University
---
Lead photo: Valerie McEntee speaks with a homeless individual during one of her night walks in San Francisco. (Courtesy of San Francisco Night Ministry)
---