By Christine Condon
Published July 13, 2020
LANCASTER, Pa. — More than a year after becoming homeless, Matt Weber found himself camping outside once again.
Only this time, he wasn't nodding off in a bus shelter or on a park bench. He was in a baseball field as part of a Camp Out for Homelessness event. A movie played on the big screen above him, there were food and drinks and, perhaps most notably, he wasn't alone.
Ever since a Lancaster transitional housing program got him back on his feet, Weber, an Army veteran, said he takes every opportunity he can to give back and help the homeless.
This work is a collaboration among the University of Maryland's Howard Center for Investigative Journalism and Capital News Service, the University of Oregon, Stanford University, Arizona State University, the University of Arkansas, Boston University and the University of Florida.
"You were in that boat that they're in," he said. "Giving back, I mean at the end of the day it makes me feel good."
Weber's experience is one page in the national story of tackling veteran homelessness, and Lancaster is at the heart of it.
Pennsylvania is among the states with the largest population of homeless veterans. According to the 2019 nationwide count of the homeless, Pennsylvania had the 11th most among all 50 states and Washington, D.C.
But the city of Lancaster and its surrounding county have reached a standard known as "functional zero" for veteran homelessness. To meet that mark, the U.S. Interagency Council on Homelessness requires that homelessness among service members be "rare, brief, and non-recurring."
That means communities must show they have identified all veterans living without permanent shelter, that there are a limited number of veterans who remain homeless for a long period of time and that they can swiftly provide shelter to homeless veterans who want it, among other criteria.
In 2011, when localities around the country first started formally counting homeless veterans, Lancaster city and county logged 57 people, according to the Point-in-Time Count data. Just three of those people, though, were living on the street. The others were in homeless shelters and other housing programs. In 2019, Lancaster counted 21 homeless veterans, and only one was living on the street.
With money from the Department of Veterans Affairs, Lancaster has set aside a special place for homeless veterans and their families.
In Lancaster's Transitional Living Center, a converted hotel with more than 50 units for homeless individuals and families, 17 units are reserved for veterans. Weber was the recipient of one of them.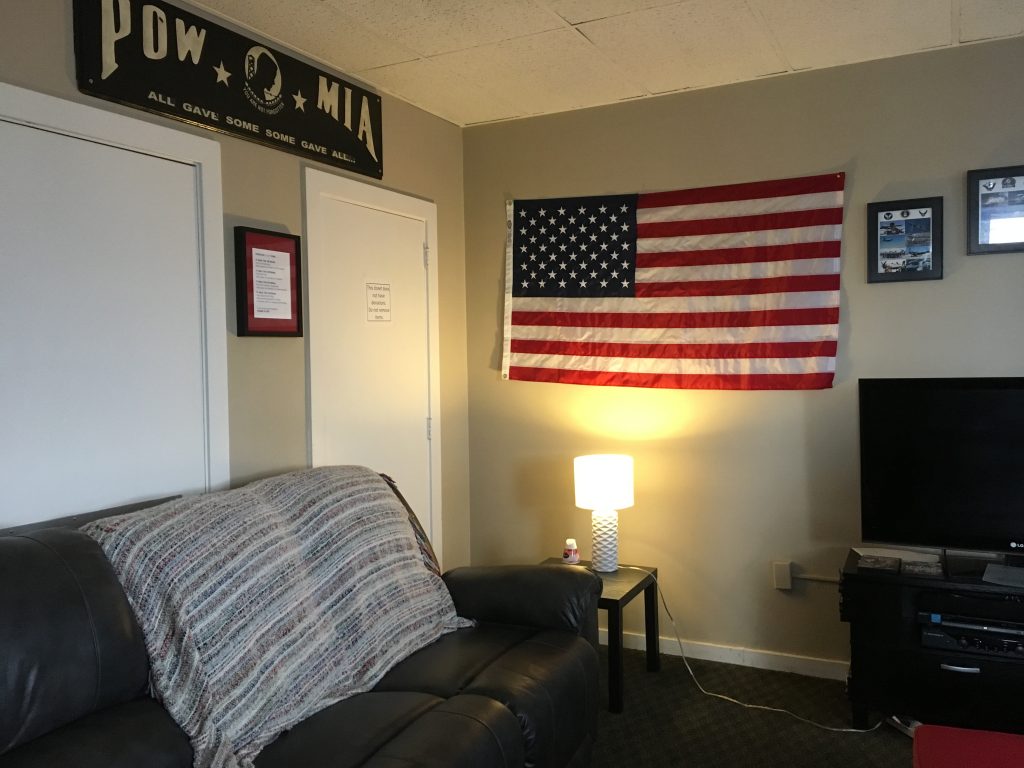 "The community really supports veterans, and so we do have a pool of donated money that's designated for veterans," TLC director Roger Steffy said. "That often allows us to serve one or two additional veteran households.''
Between 2010 and 2017, the federal government more than doubled funding for homeless veterans, from $713 million to $1.65 billion in 2017. In roughly that same time frame, veteran homelessness was cut in half.
During the 2016 fiscal year, homelessness programs offering emergency shelter, temporary housing and vouchers for permanent housing with support services for mental and physical problems served a combined 280,000 veterans, according to a U.S. Interagency Council on Homelessness report from June 2018.
Weber was among them. He moved into his new home with the help of the HUD-VASH program, a supportive housing program meant for veterans that's a collaborative effort between the Department of Veterans Affairs and the Department of Housing and Urban Development.
Weber joined the Army in 2002. After leaving in early 2016, he moved in with a friend. But when that friend got married and moved out, Weber quickly realized he couldn't handle the rent in Lancaster by himself.
"It really wasn't as bad considering I've had it pretty much worse with being in war time, people, like, shooting at me. You just dealt with the elements."
Median gross rent in the city was $834 per month in 2018, according to the U.S. Census Bureau.
He had a job at the Walmart in Ephrata, a 15-mile bus ride away, but that wasn't enough to keep him afloat.
So for more than five months, Weber lived on the streets. He slept on benches and in bus shelters, and grabbed groceries at the dollar store. When it got cold, he bundled up as much as he could, pulling his hoodie over his head when he slept.
He'd heard getting into the local shelter meant joining groups or taking classes, and he wanted to keep his job at Walmart and didn't want to have to jump through hoops. So he toughed it out. Just like he had during his two tours in Iraq.
"It really wasn't as bad considering I've had it pretty much worse with being in war time, people, like, shooting at me," Weber said. "You just dealt with the elements."
But that time outdoors took its toll. When he called the county's 211 hotline to ask for help finding a place to stay, he was directed to the Department of Veterans Affairs. They wanted him to go to the shelter, but when he resisted, they pointed him toward the Transitional Living Center in downtown Lancaster.
Weber came in for an interview and that night, for the first time in months, he had a room of his own.
The center, which opened in 1987, serves about 200 homeless people each year. The Veterans Victory House started in 2007, when 17 rooms were reserved for service members and their families.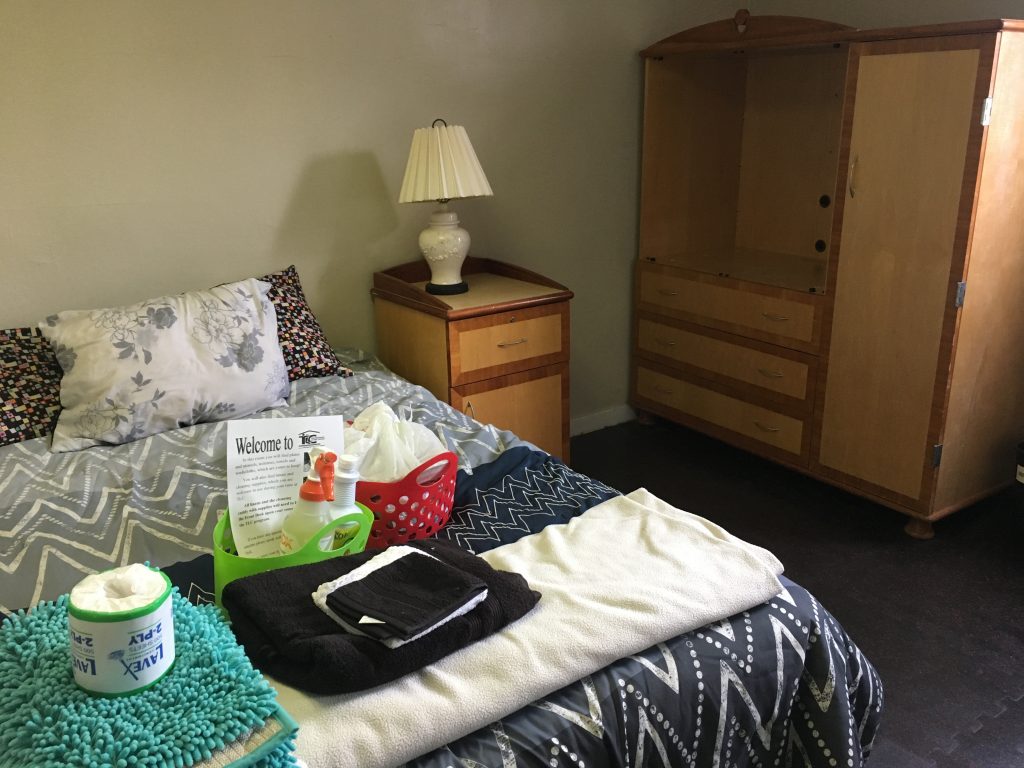 The center's glass front doors open up to a long front desk. Behind it, there are shelves with boxes for each room in the building. Whenever a resident leaves, they drop off their key, so staffers know they're gone. When they return, they pick it up again.
Past the desk, tucked behind the elevator, is the kitchen. The center doesn't prepare food for the residents, but hands out donated items. Residents are also given personal baskets they can fill with food that needs to be kept cold; they share space in industrial-sized refrigerators.
Next to the kitchen, there's a sitting room for adults and an area specifically for children, where colorful mats line the floor, with toys scattered on top.
The program allows individuals and families to remain as long as they want if they demonstrate they're on the path toward finding permanent housing.
They are expected to meet with their case worker weekly and talk about how they are pursuing their housing goals. If they do that and meet the building's safety rules — such as not smoking in their rooms — they'll remain in the program, Steffy said.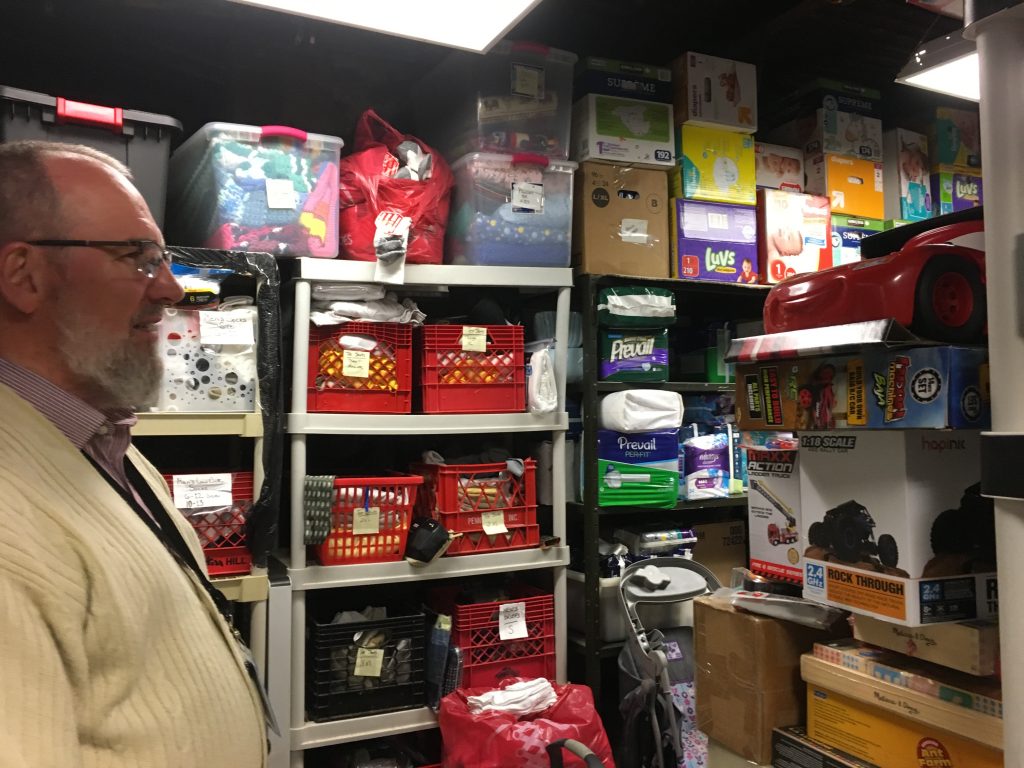 Participants must also pass a drug screen before they're accepted. If staff members suspect they may be using illegal drugs, they can be tested again.
"Failing a drug test doesn't necessarily mean that you'll be automatically expelled," Steffy said. "If you own up and you're willing to regroup and or get back to attending meetings or whatever you need in order to to maintain your sobriety, why, that's fine."
The center's policy on drugs and alcohol isn't meant to be a barrier to entry, but rather a means of protecting the community. "A lot of this,'' Steffy said, "has to do with the fact that at any given time, we've got 35 to 45 children living in this building.''
He said the shelter follows a housing-first approach, which places homeless individuals into permanent housing right away, even if they struggle with substance abuse or mental illness. Case workers then assist them with managing the problems they faced while living on the street.
Lancaster's TLC program acts as a bridge to that permanent housing, program officials said, allowing individuals a path off the street while they search for a permanent place to stay.
Weber spent about six months at the shelter, working with case workers — a benefit provided by the HUD-VASH program — who helped him find an affordable, one-bedroom apartment about 10 miles away in Manheim.
TLC was a welcoming place, he said. For the most part, he could come and go as he pleased, and when he came home from work, he could hang out in the veterans lounge on the fifth floor and watch the Philadelphia Phillies, Eagles or 76ers with his newfound friends.
An American flag hangs on the wall, a prisoner of war banner draped beside it, in the lounge. Just outside, the hallway is painted camouflage, with the names of TLC veterans scrawled in marker among the globs of green.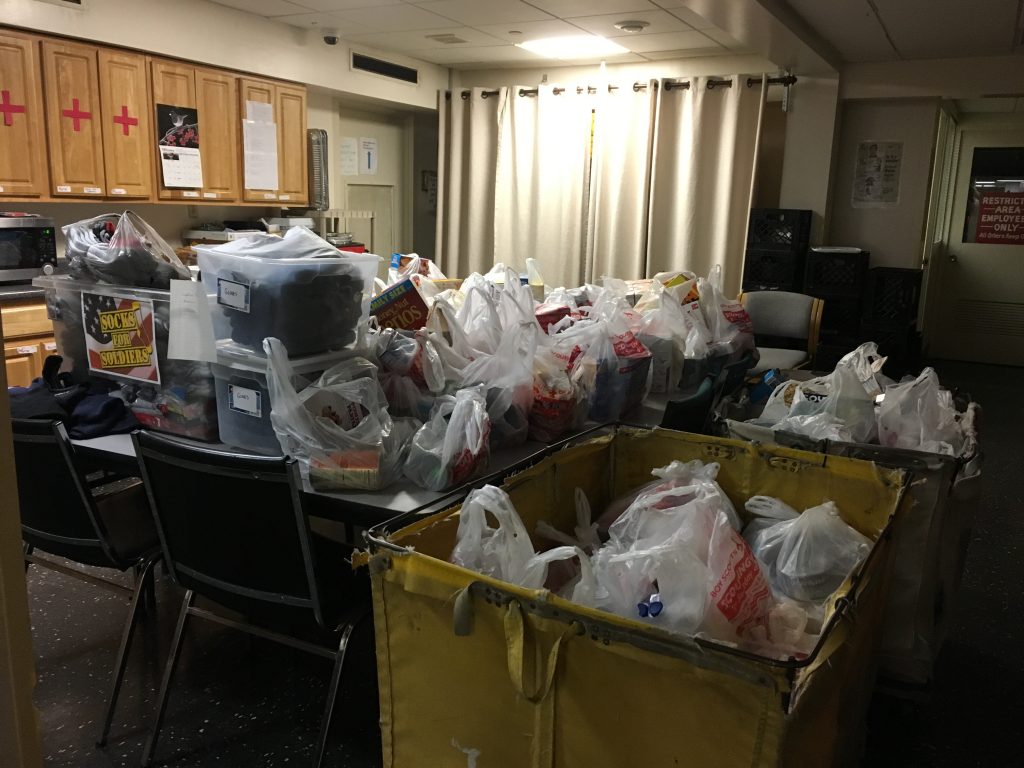 Weber credits TLC with getting him back on his feet. His case worker, Marisa Sherts, hunted for apartments Weber could afford, ultimately helping him move into his new place in Manheim.
Last year, though, the nonprofit took it one step further. As part of fundraising done for their annual banquet, they purchased him a 2017 Chevy Cruze.
"Marissa tells me: 'You won a car.' And I'm like: 'You gotta stop. Don't play like this,' because I never had that luck," Weber said.
Weber said he gives back when he can. He's quick to hand out spare change when he spots someone living on the streets, because he can remember being there himself.
"I strongly believe in karma: What goes around comes," he said. "Eventually, it all pays off."
Condon recently graduated from the Philip Merrill College of Journalism at the University of Maryland.
---
Lead photo: Lancaster, Pennsylvania, has reached a standard called "functional zero" for veterans homelessness, according to the U.S. Interagency Council on Homelessness, meaning that for veterans there homelessness is rare, brief and non-recurring. (Christine Condon/University of Maryland)